Do you want to know how to get rid of scars? Having a scar can be very embarrassing and stressful. Scars make our skin look ugly. Scars are also called as cicatrices means, the patches that is appeared on the skin after any cut or injuries and may be acne. Scars can be caused due to the biological process of any miss happening or injury repair in the skin and also other tissues of the body.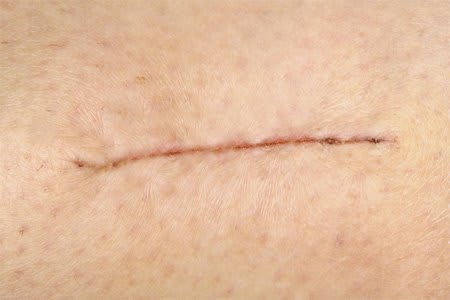 Knowing which type of scar you have is important if you want to try and improve the appearance of the scar or remove it all together. The main types of scars are:
Scar contractures

– caused by burns across skin creases and joints. Contracture scarring causes the skin to tighten which may affect mobility.

Keloid scars

– forms when the skin undergoes aggressive healing that leaves thick, clustered scarring that are darker than the surrounding skin. Keloid scarring often results from injuries and are caused by the body's continuous production of collagen in the affected skin area even after the original open wound/injury has closed and healed.

Hypertrophic scars

– hypertrophic scars are raised/elevated.  Hypertrophic marks result by excess tissues that develop over skin openings caused by injuries, infections, etc.

Atrophic scars

– atrophic scars are scars that are flat against the skin or depressed/serrated below the skin's upper layer. These are usually mistaken for hyperpigmentation- a condition wherein the skin develops darker or lighter skin pigmentation (what we call skin discolorations) that usually fade over time. Atrophic scars are caused by tissue damage.

Acne scars

– these scars vary depending on the type of acne you had. You may have pits caused by atrophic scarring, or something more wavelike or angular in appearance..
How to get rid of scar naturally?
There are many natural, healthy, and very helpful home treatments for scar fading and removal. If used properly, a natural scar reduction program can give you better results than any brand scar cream or costly uncertain surgeries or operations. Here are some natural treatments that can help get rid of scars:
Exfoliating the top layers of the scar can help flatten it out and smooth it. You need to be very careful with which products you use to do this. Lemon juice is a common natural product that contains citric acid and can exfoliate the skin. It also is a natural bleach that can lighten a darkened scar over time.
Massage can be helpful when the scar tissue is related to muscles, ligaments or joints that have sustained some type of trauma. Massage relaxes the muscle groups involved and helps to restore function to any nerves that may also have suffered any injury. Changes to scar tissue may not be realized short term, but you will begin to notice greater mobility and less stiffness in the area of the scarring as the massage begins to have an effect.
Honey and Oatmeal are popular natural ingredients found in most skin care products. As a scar treatment, these ingredients have their own properties that make them an effective agent in removing old and new scars. Honey is known for its anti-bacterial properties and oatmeal for its exfoliating properties. Exfoliating the top layers of the scar can help to flatten and smooth the damaged area.
Vitamin E contains healthy properties that can smoothen out collagen, which is a structural protein found in scar tissue. Applying Vitamin E to the area can help get rid of scars by keeping the skin soft and moisturized.
Applying a small amount of aloe vera over the scar daily. What this does is help the skin tighten. And that is exactly what you want because the tighter your skin gets the more the scar goes away. And aloe vera also helps your skin stay moisturized which is important towards getting rid of any scars.
Eat well. Your body heals from the inside out. If you are putting preservatives and other non-nourishing foods into your body, you have an even greater chance of skin problems. And, drink plenty of water to help flush out toxins.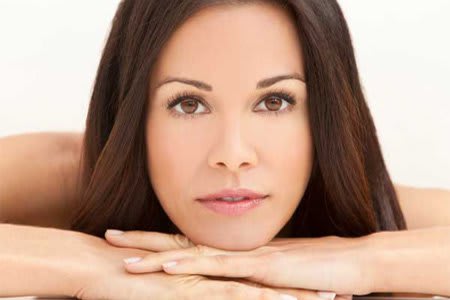 The Scar Solution –
Guaranteed
Stop the Anxiety and Embarrasment… You Don't Have to Live With Your Ugly Scars Any Longer!
Discover this Simple, Yet Effective System that is Guaranteed to Get Rid of Your Scars – Without any Expensive and Risky Procedures.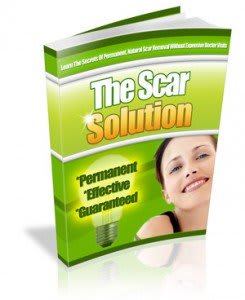 For more information, please Click The Scar Solution.

Keywords: best scar treatment, cure for scars, home remedies for scars, how to heal scars, how to make scars go away, how to remove scars, scar medicine, scar reduction, scar removal cream, scar revision, scar therapy